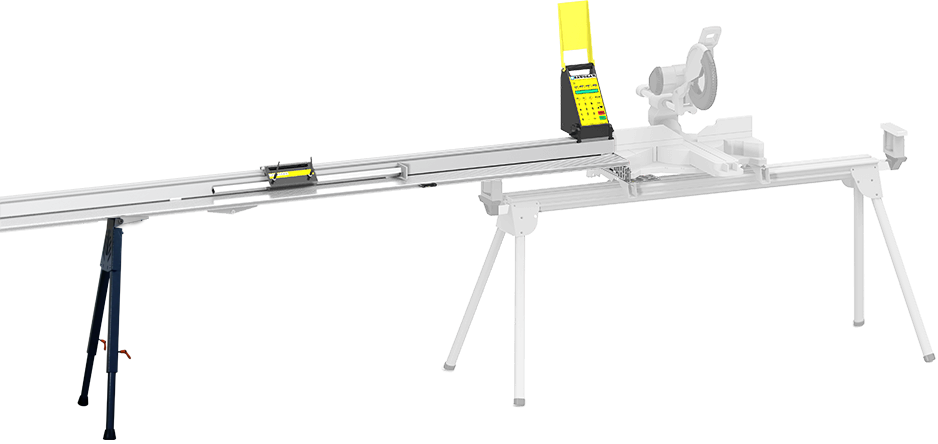 WHY YOU NEED SAWGEAR
Simple and Intuitive Automation
SawGear® is a highly portable automated saw fence that removes the need to set and adjust manual fences for length positioning and complex miter/angle cutting. Using SawGear® in place of a manual fence or stop block allows the operator to increase accuracy and productivity, and decrease miscut parts and rework. A standard SawGear system can be mounted on any existing shop work bench. Adding SawGear's portable tables to your order allows users to reap the benefits of automation on the jobsite.
With Crown+MiterPro™ software, SawGear® will easily calculate positions for angled or mitered parts. This makes hanging crown and baseboard a simple and math free process.
Any operator is your best operator with SawGear®!
FEATURES
Quickly comes to position with accuracy of +/-.008 in
Designed to be easily portable to the jobsite
Crown+MiterPro software
Easy Miter buttons
Inches or Metric
Increment button
Five Languages (English, Spanish, French, Dutch, German)
Integrates well with metalworking applications such as cold saw, drills, and ironworkers
EASILY CUT AND INSTALL CROWN MOLDING
SawGear has Crown+MiterPro™ software that calculates part angles and lengths so the user doesn't have to do complicated math. This makes it easy for anyone to install crown molding with minimal training because the process is so much easier. Using Crown+MiterPro™ allows you to hang crown in a fraction of the time.
BENEFITS
Station Set Up Made Easy
Setting up your machine to cut accurate parts is one of the most time consuming activities in your shop. SawGear® takes stop setup time down to 0 and keeps your operator making parts and making you money.
No More Rework
With SawGear® you can forget inaccurate parts and rework. You get it right the first time!
Ahead of Schedule
Not only do you get a better quality job, your guys get more done in the same hours… every day.
Highly Portable
SawGear is designed so you can throw it in your truck and take it to the jobsite with ease. Simply add SawGear's portable infeed and outfeed tables to your order.
Simple to Use
SawGear® is designed for simplicity. Why spend weeks training operators when they can be cutting accuratly with SawGear® today?
Interested in buying SawGear? Check out our e-commerce store.
SawGear® is designed as an automated stop. If you need to push, pull, or position parts, as well as download cut lists, optimize material, or use a touch screen tablet, you may want to consider a TigerStop® instead.